Our Solution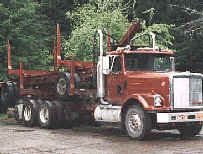 WeighWiz is one of the most advanced weigh scale applications available in the market today.  WeighWiz can operate in attended mode or unattended mode for peak times when there is no Weigh Master available. It records information entered by the truck driver or your company weigh master and captures readings from the weigh scale  equipment. WeighWiz can operate on a single scale platform functioning as both the weigh-in and weigh-out scale. It can also control dedicated weigh-in and weigh-out scales.
The  software creates a completed TM9 ticket, which is used by the Log Inventory & Management System (LIMS), to pay the respective contractors, record inventory, report stumpage due, and manage resources. As the system captures data, it translates it into an easy-to-understand formatted display in a user-friendly graphical interface.
WeighWiz monitors each loads weight by comparing it to the legal weight for the given truck configuration, season, and route. It can grant exceptions such as additional permitted weight due to inter-axle configuration. The Truck Weight Analyzer, a component of WeighWiz, captures real-time readings from the weigh scale. These readings are recorded accurately no matter how fast a truck drives on or off the scale. It is able to detect when the truck's full weight is on the scale and ignore errors caused by the driver "rocking" or "holding back".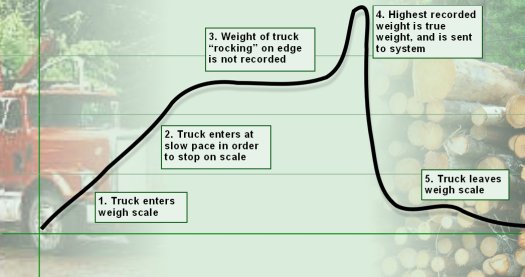 If WeighWiz is linked to LIMS, the data can be synchronized back to the central LIMS database from each WeighWiz module via modem or network connection. The vivid user interface of WeighWiz clearly displays the weight-on-scale, load source identification, and the yard location at which the load was dropped. With the on-screen display of approval area, block, setup number and product type, the weigh master or truck driver can ensure all load information is correct before the truck exits the yard.
---
Why Choose WeighWiz?
WeighWiz is flexible, user-friendly and fully configurable
WeighWiz runs on a Windows®-based environment and is completely compatible with most host systems.  The user interface is designed for quick access and display of important information. The big buttons and labels perform the best when used with a touch screen system.
3LOG Systems is able to fully configure WeighWiz to meet clients' individual needs.  Its configurable features include:
Ability to customize the user interface such as skins/themes, fonts, and sizes of individual fields and grids/grid rows
Ability to configure questions and answer choices, when they appear (i.e. weigh in or weigh out), field types, field behavior (e.g. lookup, visibility, calculation, validation, and default logic), field ordering, and confirmation screen
Support for custom validation using Receiving Rules & WeighWiz Messages
Ability to configure which load slips/reports print on weigh in/out, printer(s) to which they are printed, conditions governing when they print, and how many copies
Notion of arriving vs. departing and one way vs. two way loads
Support for multiple weigh in/out starting methods (e.g. truck number, trip ticket, source, etc.)
Granular control over root (main) screen including how to start weigh in/out process
(e.g. by direction, loaded/empty, commodity, trip ticket, truck number, etc.) as
well as fields, buttons, and captions displayed
Support for reading/parsing multiple barcode formats when scanning tickets
Support for notifying designated recipients when communication with scale, printer, or
synchronization with LIMS is down
WeighWiz is Certified by the National Type Evaluation Program (NTEP)
The Certificate of Conformity for Weighing and Measuring Devices is an initiative of the National Conference on Weights and Measures.  NTEP certification indicates a device has met applicable requirements for commercial weighing and measuring equipment in the U.S. and Canada.  NTEP Certification lets the suppliers, drivers and recipients all know that 3LOG software can communicate accurately and effectively with the NTEP certified scales.  Inexact or even fraudulent deliveries are a nonfactor with the scales, software, scanners and printers synced so closely.  All weighscale software should be NTEP certified and can you can find certified providers online at: www.ncwm.net/ntep/cert_search
WeighWiz will reduce your operating costs by improving productivity
WeighWiz accommodates multiple data collection sites. The data collection system is configurable at each site. Users can transmit data from multiple sites to a central database automatically or on demand. WeighWiz can operate as a stand-alone system in conjunction with existing infrastructure or hand-in-hand with 3LOG's LIMS software.
Captures the true weight of the load
As an important part of any self-managed overweight detection program, the Truck Weigh Analyzer component of WeighWiz helps you to ensure that trucks cannot bypass the legal fines, penalties, suspensions or reporting required for an overweight load.
Helps with efficient inventory tracking
Manned, Attendant or Un-Manned modes provide the choices to best balance the control of automation when synchronizing data to and from LIMS, even at a remote site. The system's user interface clearly displays the weight-on-scale, load source identification, and the yard location at which the load was dropped.
Improves processing speed through scales
The system operates either with or without a weigh master as set by the weigh station administrator.  Additionally, WeighWiz has a flexible architecture optimized for performance, meaning users experience fast start up times and transitioning between screens.
Works on phones and mobile devices
WeighWiz Mobile allows drivers to complete loads on their smartphones without leaving their trucks!
Improves security
WeighWiz meets the expectations of proper auditing procedures and reporting. Multi-level password security ensures that only authorized users have access to central weigh station data. WeighWiz closely controls, validates and monitors driver input while the truck is on the scale.
Cameras, lights and gates can also be controlled by WeighWiz to ensure further security.  Pictures and videos can be saved with the individual loads for future reference.   Pictures may be taken on demand or conditionally when certain defined criteria are met (e.g. overweight trucks).
Some limited administrative duties such as changing the operation mode (attended, unattended, or manual), changing platforms used for  weighing in and out, changing printers, etc. can also be performed by weigh masters.
Easy to manage
WeighWiz has many built-in administrative features such as the ability to set up new scale sites and/or PCs quickly and easily.  Scale settings can be backed up to LIMS and pushed out to set up new scales and computers without additional manual work.  In a disaster recovery scenario where it is necessary to restore WeighWiz from an older database backup, loads completed and synchronized to LIMS since the backup was taken may be easily restored back to WeighWiz.
Provides lifetime customer support services
Our service technicians can be relied upon to provide you with prompt, reliable and friendly support. You can be rest assured that you will receive exceptional technical support from 3LOG Systems whenever you needed it. We provide our clients with a complete user manual, 24/7 e-mail, telephone, and fax support.
Screenshots
WeighWiz is highly configurable, and the following screenshots are very much only single examples of all the multiple ways you can configure it to work.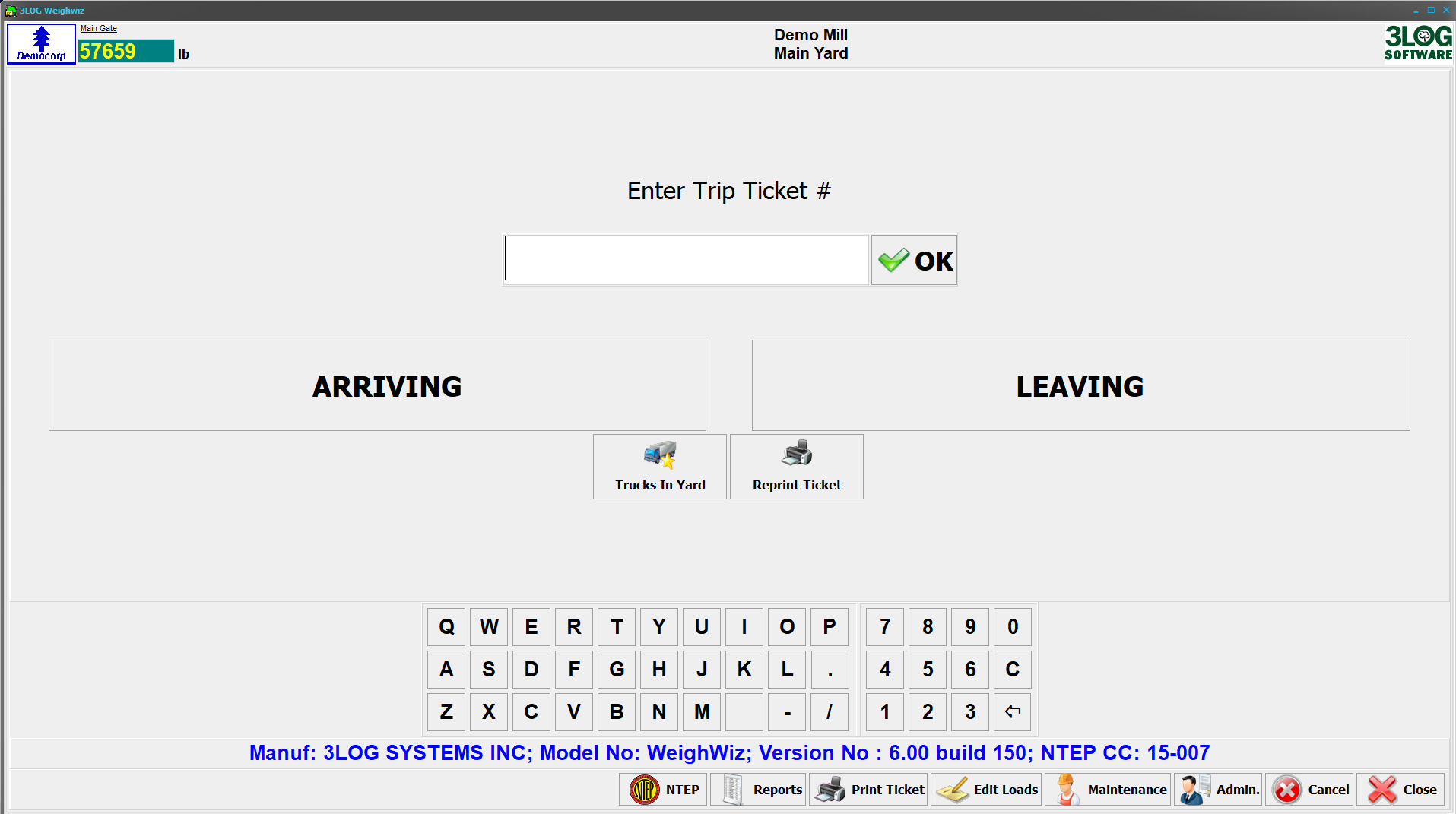 Click Image to show Gallery Photos
---
Features & Advantages
Allows quick truck information entry
Calculates and processes overweight
Issues driver and/or truck suspensions for overweight, safety, and other violates at the scale as trucks weigh-in
Processes tachometer information
Performs axle sampling
Prints Log and Chip sample labels
Prints yard pass at weigh-in and weight certificate at weigh-out
Includes easy system administration setup options
Automatically records up to two scale weights
Associates each load with its destination, ticket number, in/out date and time, in/out weight, truck identification and configuration, and other user-defined fields
Associates up to 12 contractors with a load
Information entry options include: Key Board, Barcode/Trip Ticket, Touch Screen, Smart Card, Voice, Handheld
Utilizes user definable auto-tare and weigh-out schedule
Allows editing of transactions after load entry
Transmits data via modem, LAN or Internet
Allows user defined, unattended, timed master table download and upload to and from remote sites
Includes full audit control
NTEP Certified
---
Brochures