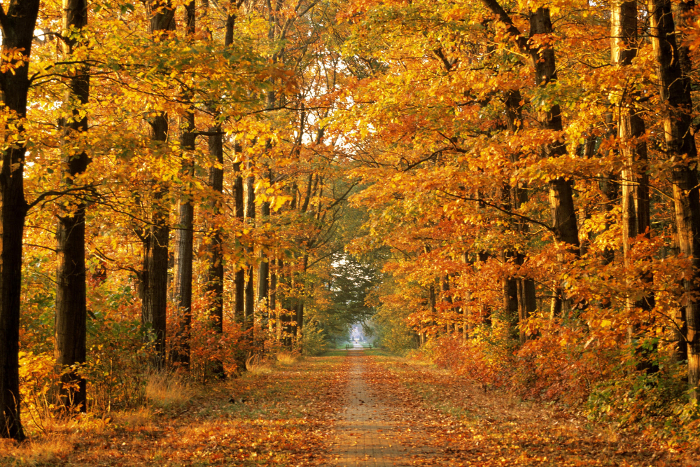 Hardwoods come from deciduous trees that drop their leaves every year in comparison to softwoods that come from conifer trees that have needles and normally don't lose them.  Hardwoods are generally darker in color and heavier in weight because they have a higher density.  The grains and patterns of hardwood are typically much more distinct than softwoods and can result in some very beautiful finished products such as flooring, furniture and cabinetry to mention just a few uses.
The growth rate for hardwoods is very slow in comparison to softwoods.  This also impacts the price of hardwood logs which for the most part are considerably higher value versus softwoods.  Since the logs are more valuable there is the need to manage more details including species, grade, defects and other characteristics.
We offer the ability to track logs by load, logs within a load and even to a specific log if it happens to be a high value log such as a peeler that uses a unique identifier such as a barcode.  Barcoded tags are sometimes attached to high value logs to identify unique information specific to that log. It is not practical or cost effective in most cases to track all logs with barcoded tags.
Ruggedized hardware devices are commonly used throughout the industry by scalers to capture details on logs such as species, grade and defect information.  Devices being used include handhelds, tablets/notebooks and even headsets that use voice technology that allow scalers to have both hands free.
Autotag is used to store a unique integer representing a log tag number.  If auto-tagging is turned on the scaler can set a tag number and subsequent logs automatically get the next tag number in the sequence as they are created.
Calculating log quality points.  The higher the summed log quality points for a load the lower the assumed quality based on the count and type of defects observed.  When a load is piece scaled the points are automatically calculated based on the log defects entered.
The information on the logs is captured on the handheld and the data is imported to our system to apply rules for settlement.  Our goal is to automate the process making it as efficient as possible alleviating the need for manual intervention.
The concept of "block" in scaling is mostly relevant to mills that peel logs into veneer on lathes.  Logs are mostly purchased in lengths that lathes are most efficient in converting to veneer so this is the basic counting unit.  As an example if the length of a block is 8'6".  You take in logs averaging 9' and 18' (with several inches allowed variance for trimming purposes).  One 9' log contains one 8'6" block.  An 18' log contains two blocks.  It can be more meaningful to show how many blocks versus how many logs.
Hardwood logs can be delivered on weight in some cases in addition to being piece scaled and we offer our WeighWiz product to manage data from a weighscale.  The weighscale can run in  attended or unattended mode.  Trip tickets with barcodes can also be used to reduce and automate data entry.
The industry is continually changing and currently dictates that logs be accounted for from the time they are cut in the forest to the point they arrive at a mill and are manufactured into a product that is bought by a consumer.  Commonly known as chain-of-custody there are common industry certifications such as Sustainable Forestry Initiative (SFI) and Forest Stewardship Council (FSC) which are used to track the logs from origination to final product.  We accommodate the many industry specific certifications.
We provide the capability to automate the chain of custody process using our LoaderWiz product.  While onsite picking up a load you can scan a barcoded trip ticket with an iPhone or simply enter in the information for a load.  The load information is collected and the exact lngitude/latitude coordinates are identified for that specific load.  When the load arrives at the destination the information collected from the point of origination is transferred and the data is kept as a permanent record to satisfy certification requirements.
Many of our clients have multiple yards and roadside inventory that needs to be accounted for and our Inventory Management module keeps track of all the inventory at all these different locations.  You have full accountability of your inventory activity whether it is transferred to another location, remanufactured from one to many, sold or consumed by your facility.
Inventory can be identified by:
Species and grade
Length and diameter
Deck, row or other location
Gross and net volumes
Tagged or untagged logs
Our software is specifically designed to accommodate multiple inventory unit of measures such as MBF, BF, Tons, Pounds, Cords, etc.  We also provide unit of measures and allow for conversions.
We have some customers with locations in 4 different time zones and their operations are very different and our system has the flexibility to accommodate their unique business processes by simply configuring our system.
You can look at inventory reports by grade, species and yard or many other combinations.  Reports permit displaying the original source scales, or in a single scale (user's choice) after conversion, and support the following scaling methods:
Doyle
Cubic feet
International
Cubic Meters
Scribner
Smalian
Tons
Reports can be user defined with sorts and data filters to show exactly what you want to see.  Use the reports already in the system or create new reports that can be scheduled to run automatically.  Email reports as a PDF report attached to a predefined address.
Reports:
Show species, grade, log count, blocks, diameter, length, net volume, rejection, deductions, cut & haul, price, depletion
FSC Summary by deck
Vendors by Log Quality Factor
Contact 3LOG sales to learn more about our solution and how it is positively impacting our customers in the hardwood industry.