LoaderWiz allows you to use your iOS or Android based device (such as an
iPhone, iPad,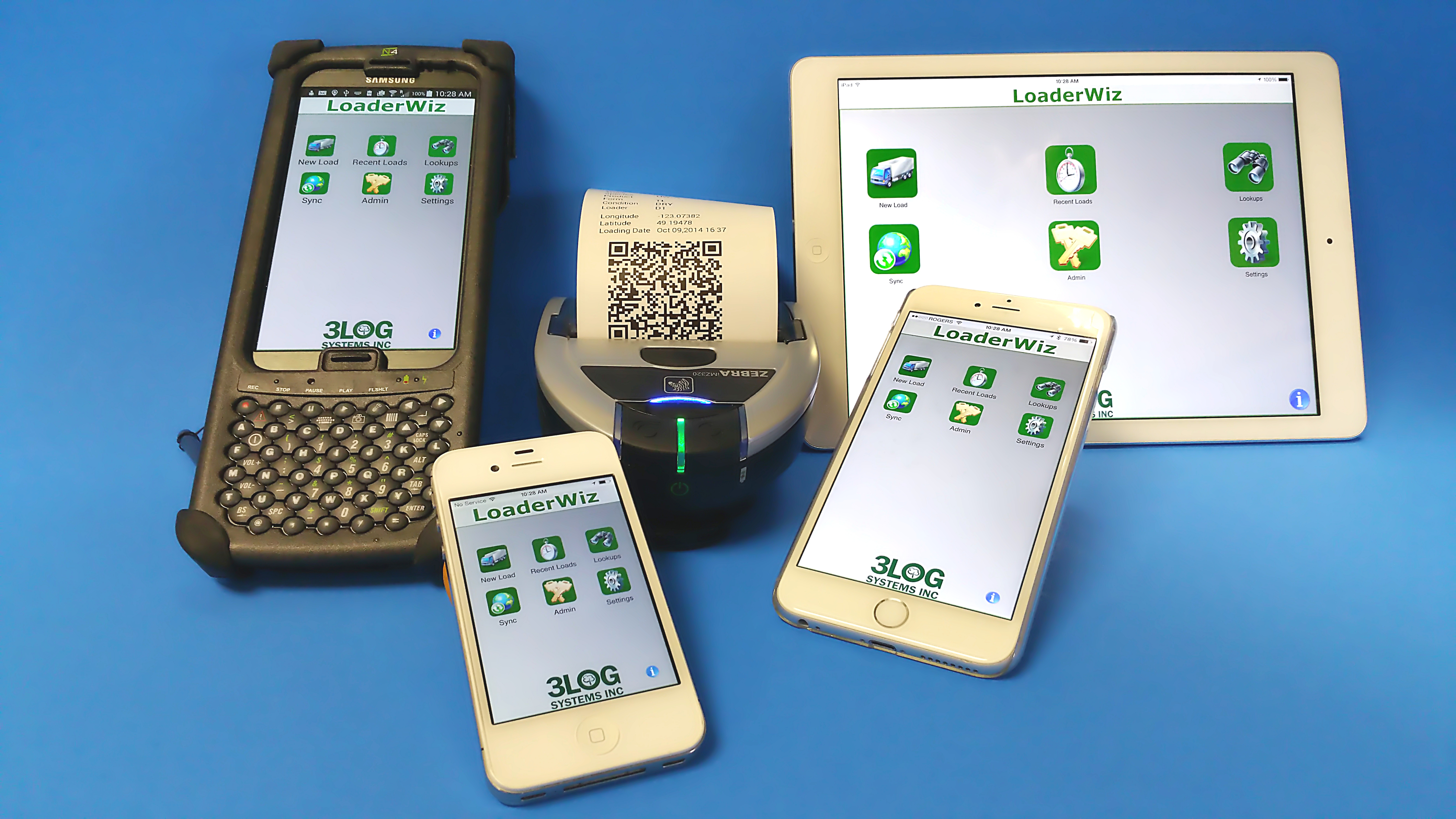 or Android phone or tablet) to manage loads from the forest to the mill. It is essentially a penless load slip entry application designed for loaders or logging contractors to ensure truck loads are shipped and properly tracked.  It creates load slips or trip tickets with GPS coordinates and then optionally prints load tickets with QR barcodes. It additionally allows for two way synchronization with your corporate LIMS system allowing loaders to identify loads at the point of loading in the forest.
A load can be created by scanning a predefined trip ticket. Each ticket is then associated with a loader's GPS location and load information he or she enters on his or her device. Load information is sent to the central LIMS server over a cellular network or a WiFi connection. Load information is then sent by LIMS to WeighWiz at the receiving station and matched to the received load for a full Chain of Custody.
Chain of Custody certification is essential for businesses seeking to access environmentally and socially aware markets, or to demonstrate compliance with public and private procurement policies that specify environmentally responsible materials.  Reasons for having Chain of Custody certification range from qualifying for LEED wood credits and customer demand to verifying that wood supply originates from well managed forests to downstream customers.
Common industry Chain of Custody programs include the Forest Stewardship Council (FSC) or Sustainable Forestry Initiative (SFI) certifications. FSC is widely considered one of the best forestry certification programs.  FSC Chain of Custody certification allows companies to label their FSC products, which in turn enables consumers to identify and choose products that support responsible forest management.
The Sustainable Forestry Initiative (SFI) is a forest certification standard and program of SFI Inc., a non-profit organization. The Sustainable Forestry Initiative is the world's largest single forest certification standard by area.  The SFI standard covers key values such as protection of biodiversity, species at risk and wildlife habitat; sustainable harvest levels; protection of water quality; and prompt regeneration.   The SFI program additionally supports activities by international experts to find ways to address the problem of illegal logging and is a member of the international, multi-stakeholder Forest Legality Alliance.
Leveraging modern technologies and best practices, 3LOG developed the LoaderWiz application specifically for managing the Chain of Custody of wood products.  With LoaderWiz, loaders, loggers, foresters, and landowners can:
Create loads and barcoded trip tickets in the woods even when there is no internet connectivity (load data is stored in local database on device);
Synchronize bidirectionally with your corporate LIMS system when connectivity is available to conveniently download sources, trucks, trip tickets, and other key information needed to create loads and synchronize completed loads back to LIMS;
Prove chain of chain of custody using GPS stamp;
Print tickets with QR barcodes to portable Zebra printers and hand it to truck drivers;
Electronically transfer a ticket with barcode to a truck driver's device (if driver is using WeighWiz Mobile) which can then be used to expedite weighing in and out at scale site without him/her leaving truck; and
Lookup and review processed and delivered loads using a smartphone as well as run real-time reports and manage trip tickets and scale data faster with less paperwork, more detail, and greater accuracy.
LoaderWiz provides your organization with a convenient, cost effective means to accurately track loads of raw materials and transition from a traditional paper solution to a real-time mobile solution. It is easy to administer and highly configurable, allowing you to quickly tailor it to fit your unique business needs. You can centrally create and manage loader operator accounts, their devices, and printers in LIMS and have full control over the data that is synchronized to their devices as well as what data they enter or select during the load creation process. LIMS Mobile and LoaderWiz utilize the same security as your LIMS desktop application so integrity is maintained remotely. Mobile users such as loaders are only allowed to input or access information based on your corporate security settings.
The process begins as a loader in the forest signs into LoaderWiz and scans a preprinted trip ticket barcode with the ticket number assigned in LIMS. The GPS coordinates are captured automatically based on the loader's location. He or she then processes a load entering key information such as the source, destination, product, truck number, and load description. This information will be synchronized to LIMS (per the configured frequency and when internet connectivity is available). The loader then loads the truck and hands the driver a printed load slip with a scannable QR barcode or transmits the ticket electronically if the driver is using WeighWiz Mobile. The truck driver then takes the printed ticket (if applicable) and delivers the load to the destination. When at the mill or customer site, the truck driver may initiate the weigh in process by either scanning the printed load slip with barcode or, if using WeighWiz Mobile, weighs in from his/her device without leaving the truck. Fields in WeighWiz are populated automatically based on the scanned barcode, thereby expediting data entry. Once the truck has weighed out, the completed load with weight and other information is synchronized to LIMS.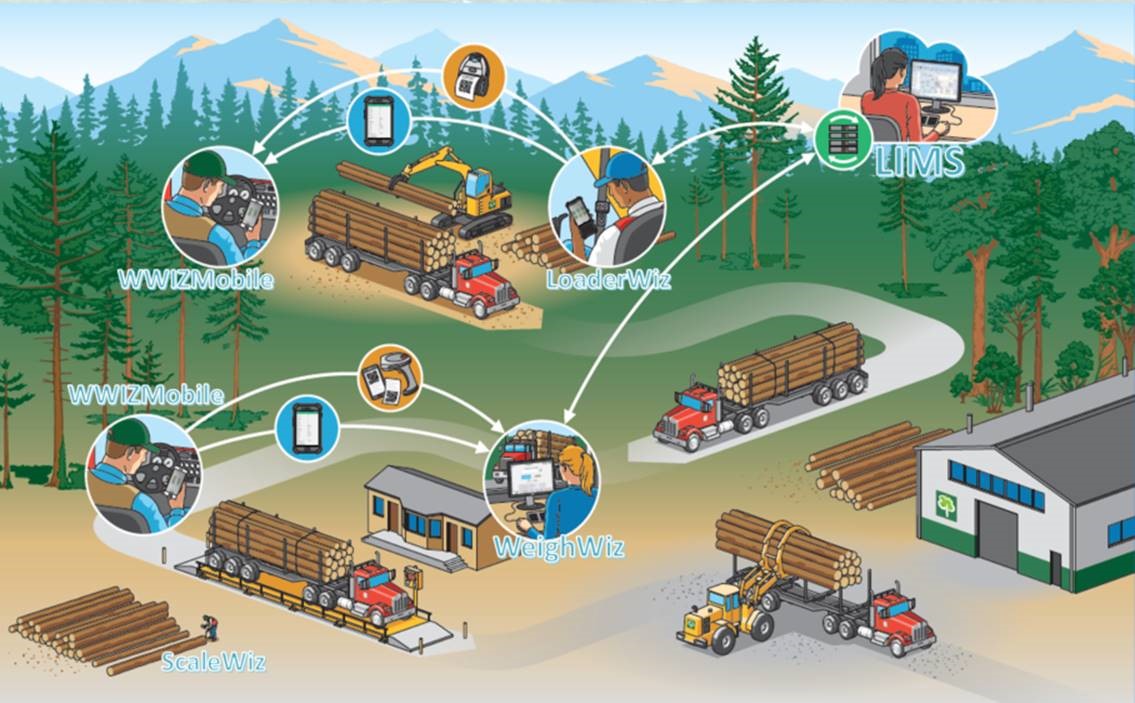 Below are screenshots of LoaderWiz application on an iPhone.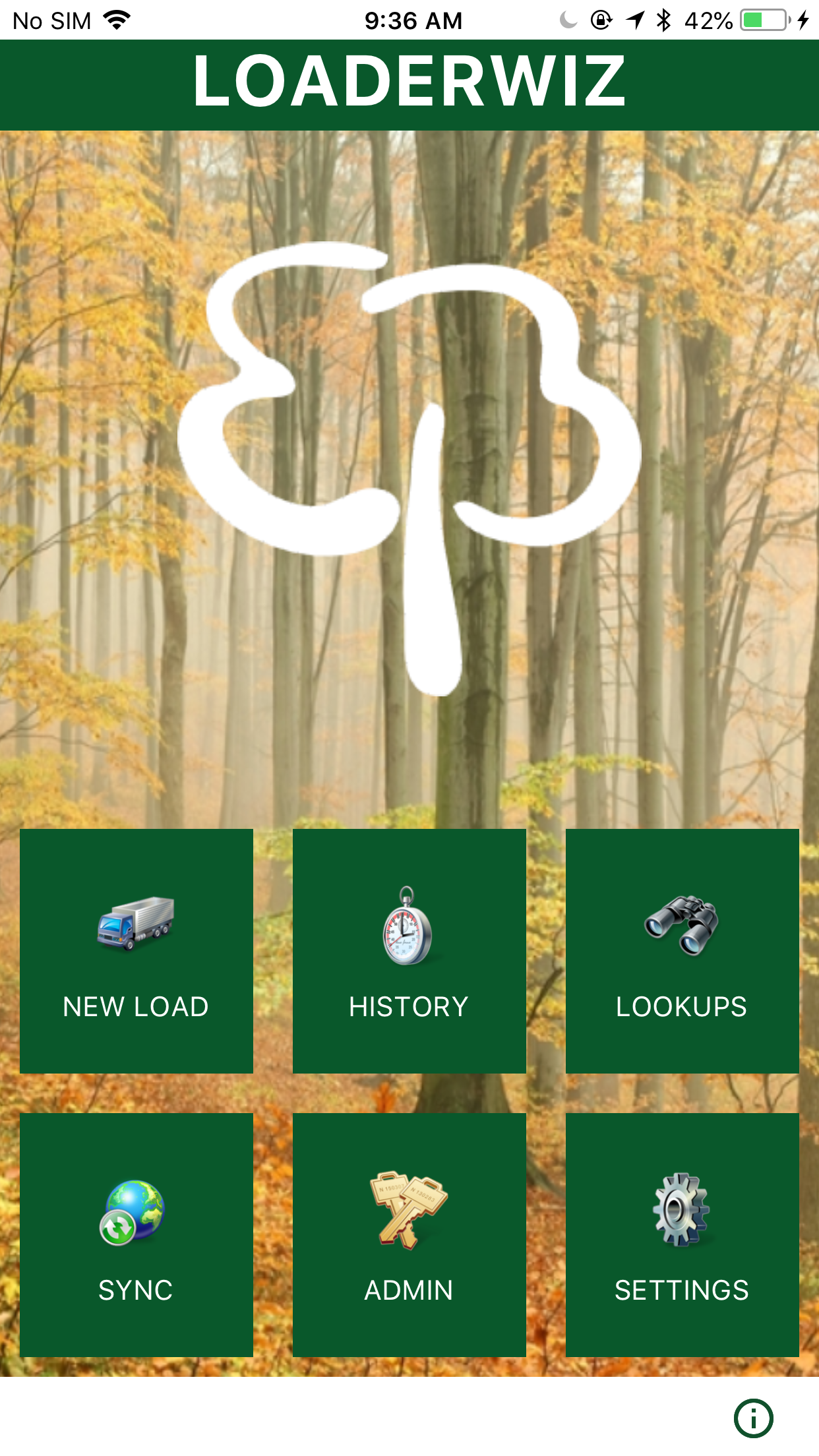 Click Image to show Gallery Photos
As the #1 industry solution provider of wood product management systems, 3LOG has more clients and installations than any other company in the world.  Our client base is very diverse and it drives us to be very flexible in accommodating all the different requirements that exist.
3LOG has been and continues to be committed to the wood products industry.  No other company compares when it comes to the investment in the software and keeping up with current technology.
To learn more about LoaderWiz and how this industry changing solution can help your business, please download the LoaderWiz Product Brochure or contact 3LOG sales.
---
Brochures