The Log Inventory and Managements System Delivery Manager tracks all information related to your timber, log, wood and fiber deliveries. Such information will include arrival date, time and location, timber source, truck, gross and net weight, species of wood, form of wood (raw logs, cut logs, chips, etc.), and so on.
All information is cross-validated against related database tables, and is immediately available to other modules (inventory, payment, etc.) in real time. LIMS is much more than a wood procurement system; it is comprehensive business management software for the forestry, wood products, pulp and paper and lumber industries.
LIMS relates all deliveries back to their original sources and hence tracks chain-of-custody and other sustainability (SFI) certification.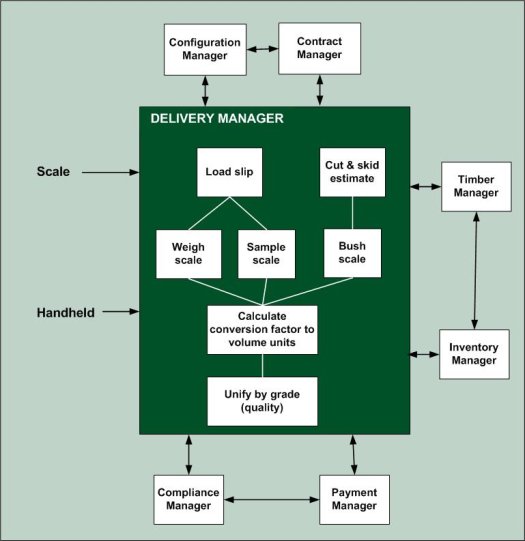 ---
Deliveries
Imports load information from WeighWiz and other weight capture software into LIMS
Verifies, with the Timber Manager, the existence and accuracy of the approval area, block, setup number, and species associated with each load
Verifies, with the Contract Manager, the existence and accuracy of the contracts and truck configurations
Accepts many types of products including log samples, chip samples, pieces (logs), and different weigh scale software
Ensures that delivered wood volumes are associated with the proper contract
Links Ministry of Forests and Range (MoF) numbers to timber sources
Checks the scale information against a scale location table
Manages trucks and haulers
Reports on Truck turn-around time, yard time, overweight information, etc.
Increases information accuracy by verifying information with Timber and Contract Managers
Provides flexibility by accepting many different types of products
Updates the mill and bush inventories by alerting the Inventory Manager
---
Product Screens
---
Delivery Planning
Track delivery depletions against individual sources
Create larger-scale delivery budgets, quotas and wood orders (e.g. by business unit or vendor)
Monitor actuals against plan
Report on variances
Pinpoint unexpected variances in deliveries
Get the information you need to make immediate corrections to delivery schedules