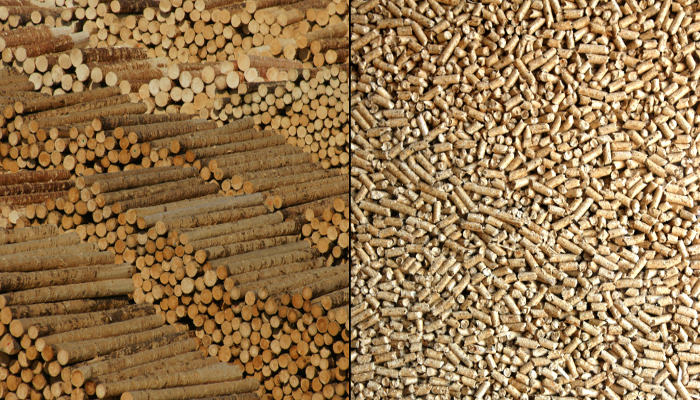 The wood pellet export industry in North America has grown exponentially in a relatively short period of time. Export value has increased from an estimated 40 million dollars in 2004 to almost 400 million dollars in less than 10 years. This fairly new trade development is the result of Europe's quest to reduce its dependence on fossil fuels and to reduce CO2 emissions.
Wood pellets is one energy source that has attracted much attention and investments in a number of countries on the European continent. With limited domestic wood raw-material sources, countries such as the UK, Belgium and the Netherlands have increasingly relied on the importation of industrial wood pellets to reduce the usage of coal at some of their power utilities. The relatively high costs for wood pellets in Europe have resulted in increased interest in importing pellets from North America where wood raw-material costs are lower than in Europe.
North America has significantly more forestland than Europe as well as a long history of sustainable forest management and productive commercial forest product industries. The total forest area in the US for example is within one percent of what it was 100 years ago.
Since North America has substantially greater forest resources than Europe, it makes an ideal area from which to source pellets. Ocean freight is substantially more carbon and energy-efficient on a per ton basis than trucking, which means that shipping long distances makes more sense than trucking over moderate distances. Transporting freight by ocean uses less than 13% of the energy of transporting the same freight by truck. This means that shipping a ton of pellets from the North America to England results in less carbon emissions than trucking that same ton from northern Scotland to England.
LIMS manages the procurement process including change management of the contracts.
LIMS records and tracks certifications such as Forest Stewardship Council (FSC) or Sustainable Forest Initiative (SFI) chain of custody.
LIMS manages receipt of raw material and tracking of actual receipts to contract
LIMS manages approvals for payment, including any deductions required due to moisture, quality assurance, etc.
Contract Management
Raw Material Receiving
Sampling and lab testing
Transportation Management
Conversion of Logs to Bark and Wood Chips
Payment / Settlement Processing
Security controls / SOX Compliance
Procurement Planning & Forecasting
Inventory Management (Raw Materials)
Inventory Management (Finished Goods)
Fiber sourcing contracts
Manage fiber supplies for Pulpwood, Forest Residuals and Hog Fuel from sustainably managed forests.
Fiber receiving process:  The trucker pulls onto the scale for unmanned weighing via WeighWiz using reusable trip ticket IDs.  An inbound scale ticket can be issued with relevant information. Outbound transactions will weigh the truck and WeighWiz will issue a load receipt in duplicate if desired.
Barcoded trip tickets can be used to minimize data entry and touch screen computers can be used to simplify data entry for haulers if operating in unattended mode.
Typical raw goods received and managed within inventory may include:
Logs
Pine Pulpwood
Pine Chip-n-saw
Pine Saw timber
Hardwood Pulpwood
Hardwood Ties
Hardwood Saw timber
Chips / Forest Residuals
Pine chip mill chips
Pine sawmill chips
Pine planer shavings
Pine In-Woods Chips debarked
Pine In-Woods Chips not debarked
Hardwood chip mill chips
Hardwood sawmill chips
Hardwood planer shavings
Hardwood In-Woods Chips debarked
Hardwood In-Woods Chips not debarked
Forest Residuals from hardwood
Forest Residuals from pine
Forest Residuals from mixed stands
Hog Fuel
Pine hog fuel
Hardwood hog fuel
Mixed hog fuel
Pine bark
Hardwood bark
Pine Sawdust
Hardwood Sawdust
Kiln dust
Inventory can be done on a period to period basis with opening balances, purchases, consumption and sales for each period. Ending balance for the current period can be carried forward as opening balance for the next period.
Inventory costs include all purchase expenses such as; logging, hauling, road costs, taxes, etc.
General reporting requirements:
Reporting by product type, species, vendor, source, dates, etc.
Quantity, price and total value of fiber received in green metric ton
Quantity, cost and total value of fiber consumed
Quantity, cost and total value of fiber at each deck/yard/site
Quantity and value of fiber on hand, by deck/yard/site, categorized by paid versus outstanding accounts payable
Quantity and value of fiber
Contact 3LOG sales to learn more about our solution and how it is positively impacting our customers in the Biomass Utilities industry.