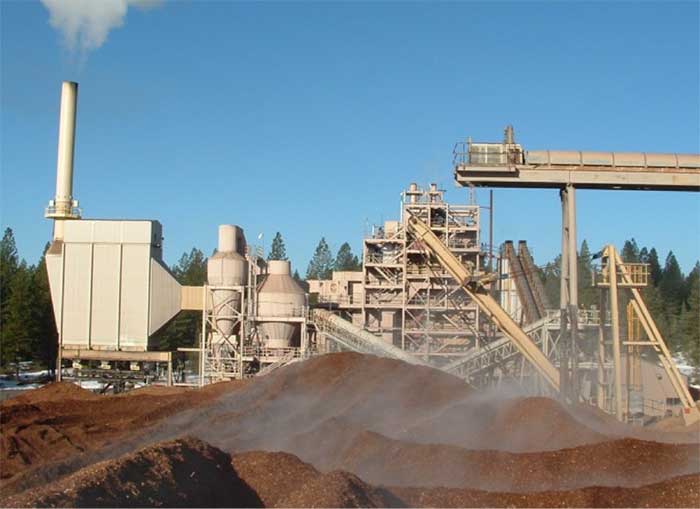 Biomass is mainly regarded as low grade, low cost waste materials that are used primarily as a fuel source.  Biomass can come from wood or virtually any major source of agriculture matter.  Examples of wood biomass include forest slash, urban wood waste and lumber waste.  At 3LOG our primary focus is on wood derived products but we also accommodate facilities that are bringing in other mass quantities of biomass products outside of wood.
Thanks to advances in technology, millions of tons of waste wood biomass that would be burned or go to the landfill, is now put to valuable use producing energy, fuels or chemicals.  Recent changes in the industry and legislation have had a tremendous impact in making biomass utilization a cost effective option.
Biomass was once looked at as having no value and companies discarded it at a cost where today these products can be highly sought after commodities that are used to generate bioenergy, biofuels or biochemicals.  Cull wood does not have commercial value as timber (because it is dead, rotten, poor in form or quality, and so on), but it can be removed to be used as fuel (and to improve the overall health of the forest).
Energy companies such as DTE Energy and Greenleaf Power are using our systems to manage contracts, lab testing, weighscales and doing settlements.  There are stringent restrictions on weigh scales in some locations such as California where the scales must be certified and they also must be manned.
Our weighscale application called WeighWiz is certified with the State of California Department of Food and Agriculture Division of Measurement Standards.  California Type Evaluation Program (CTEP) has issued 3LOG Certificate Number 5655-11 as a Certificate of Approval For Measuring and Weighing Devices.
Typical contracts that may be used in the biomass industry include:
Wood Waste Purchase Agreement
Log Purchase Agreement
Timber Sales Agreement
Haul Agreement
Most biomass facilities require testing for moisture, contamination and ash (byproduct of wood combustion).  Using our lab testing application called LabWiz companies can identify the sampling requirement and automate the process so the system identifies which loads will be sampled.  Samples are taken from the load and put into a bag along with a barcoded ticket.  After the sample is tested the results can be used to calculate the deductions or penalties and tie it back to the load for settlement.
Due to the more complicated process for ash testing, it is not practical to test every load for ash content.  A portion of loads are tested for ash.  A sampling frequency can be setup for each supplier (1 in 5, etc.) and when a load is randomly selected for ash testing, an "Ash Test" ticket prints.  Ash testing is done on the dry sample that is taken from the oven while performing moisture testing.  A sample ash test ticket is shown below: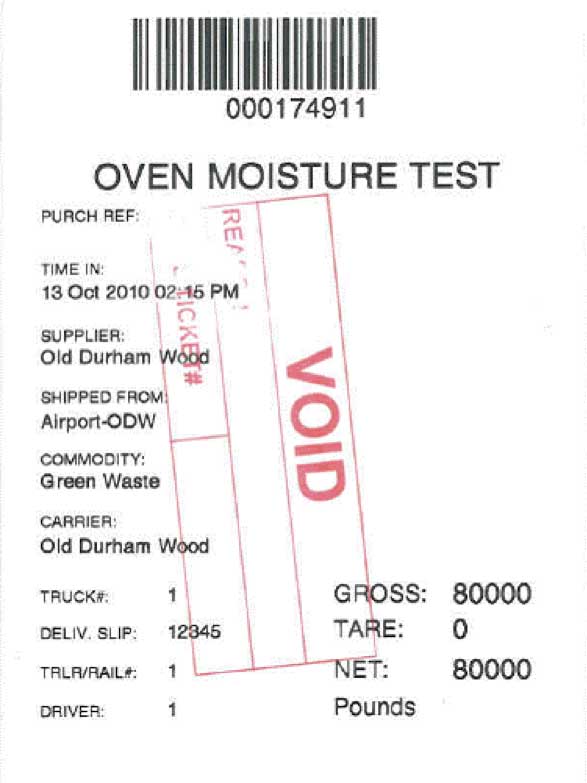 Features and functions:
Card or trip tickets can be issued for suppliers in LIMS to reduce the number of manual inputs when a load is received. Any information that is attached to a card will be used automatically and this will increase data accuracy.
Any information that can be derived from the supplier's contract can be used automatically in Weighwiz. This reduces the number of mistakes made by scalers in identifying the correct product and other information.
Hauling companies that transport over the maximum allowed will not be paid for the overweight amount if you choose to enforce in the agreements.
System can stop overweight trucks from leaving the yard.
Manual check requests can be replaced with electronic transfer of data into your financial system from LIMS generated payments and sale invoices.
The document generation feature of LIMS can create and route the contract and eliminate the need for doing contracts outside the system.
Payment can be done in Green Tons or Bone Dry Ton (BDT).
When total ash content of Product is, determined by testing, to be in excess of a certain %, the purchase price for product can be reduced by a determined $/BDT.
Ash content affects the payment rate. It is not possible to test every load for ash normally as it is very time consuming. Based on a sample frequency that is set for each contract (1 in 2, 1 in 5, etc.), loads can be randomly selected for ash testing at receiving time.
Ash test results for loads that are going to be paid in a pay period can be averaged and payment price adjusted based on this average.
Ash sample is split on a table and then ground.

The ash test device is Milestone PYRO.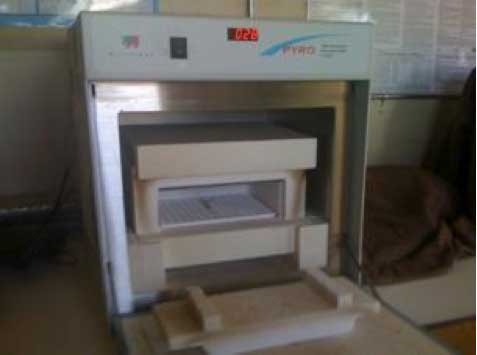 Ash samples are placed in crucibles and weighed. The Milestone PYRO system has a touchscreen display unit that is used to record some information for each sample.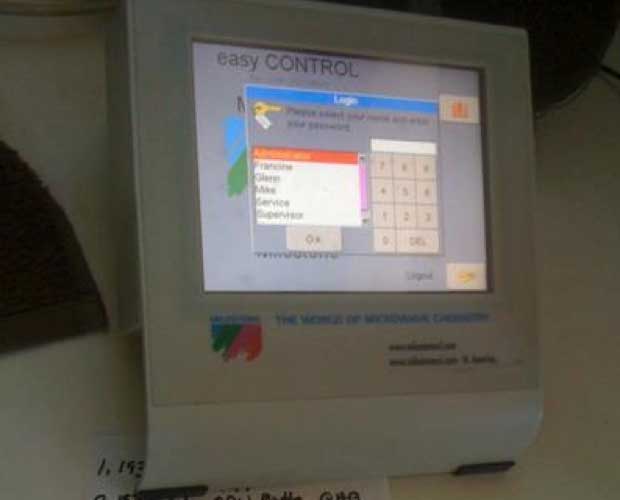 On completion of a test, the original bag of sample, the ground sample bag and the ash bag are all kept and stored for some time.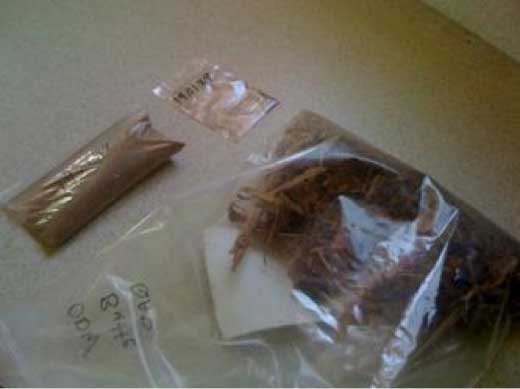 Each sample can have several tests (moisture, Bark, ash, etc.). Completed test results are pulled into LIMS and used in payment calculation.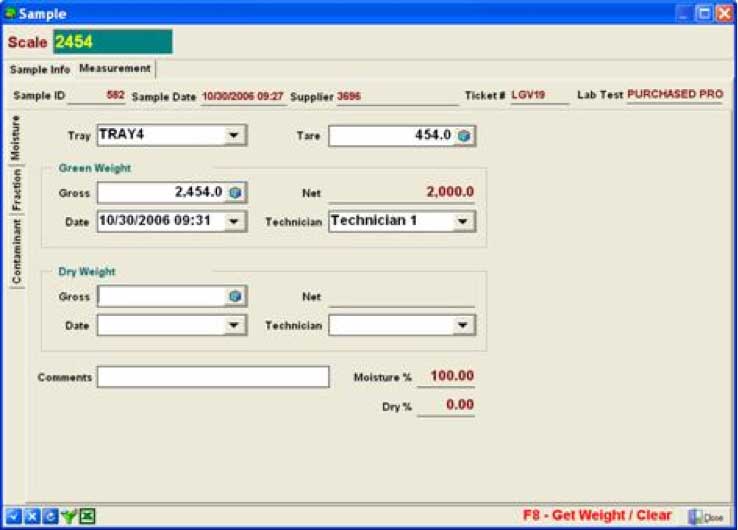 The following information can be tracked for planning:
Supplier
Fuel Type (commodity group)
Commodity
Year/Month
Volume
Price
There are totals showing:
How much each supplier can provide of a given commodity in a year
How much fuel will be provided by all suppliers in a given month
How much of each fuel type will be provided in each month/year (volume, percentage)
Based on projected monthly consumption figures, and the beginning inventory in the beginning of the year, a monthly plan for each month is developed.
Month Ending Inventory =
Month Beginning Inventory + Month Purchase – Month Consumption
Actual volume purchased will be compared with the plan to make sure that there is always enough fuelwood in the inventory. Proper action will be taken if the actual is not close to the plan.
Inventory can be tracked separately for logs and wood waste.  You may have decks for logs and piles for wood waste.  Inventory may consist of multiple locations and be either Green Tons or BDT and include price.
Value of inventory is normally very important.
Monthly weighted average pricing is the methodology used to value the inventory. The average inventory price is calculated for log and process inventory separately.
                                Total Value of inventory
Average Price for month  =  ----------------------------------
                                   Total Volume in BDT
Total Value = Payments made to suppliers for delivery of loads
+ misc. payments  (cost of grinding, handling, etc.)
+ beginning inventory of this month
Total Volume = Volume of loads received during the month
+ beginning inventory volume
System calculates consumption tracking.
Reports:
Daily load count
Dumper Receipts
Load Count by Week
Moisture content
Fuel Receipts by month and supplier
Truck arrival
Contact 3LOG sales to learn more about our solution and how it is positively impacting our customers in the Biomass Utilities industry.