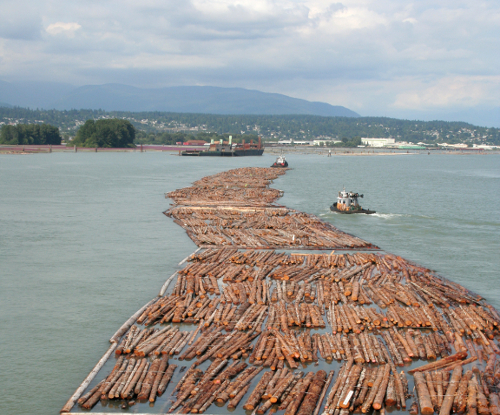 Softwood is the source of about 80% of the world's production of timber and coming primarily from conifer trees. There are many uses for Softwood logs with the primary application being lumber to be used in building houses.
Within the Canadian market there is uniqueness from province-to-province in the process of transporting, manufacturing and reporting.  We will identify some of those unique requirements for you.
The Canadian Government is the primary owner of all timberlands in Canada and they are managed by the Ministry of Forests (MoF).  Forest Management Agreement, Timber Volume Area Quotas and Timber Permits are used to manage the harvesting of the timber.  Companies that acquire a Quota from the MoF are entitled to harvest timber and will pay Crown Dues on the logs at the time they are scaled.
Within British Columbia there is the Harvest Billing System (HBS) scale data management and invoicing system.  Scaling data is submitted by the Forest Industry to the Ministry of Forests, Lands and Natural Resource Operations electronically or through online entry in HBS.  It supports submission of detail data through XML.  Scaling data is validated and stumpage invoices or volume statements are calculated, issued and delivered to clients.
The list of approved scaling software for British Columbia can be found at the following link:
http://www.for.gov.bc.ca/hva/hbs/approved_software.htm
The MoF uses Population/Stratum/Year to identify dates, location and type of logs being received.  Timber Marks and/or Hammer Marks are commonly used in Canada to identify a specific log as would a barcode might be used in other areas.  Sampling of logs is automated and managed within the WeighWiz application.
Our software manages all aspects of log delivery, transportation and transfers, sampling and conversion, quality control, contractor pay, inventory management, TM9's, HBS and crown dues.
TM9's in Alberta monitor and track the movement of timber produced from both crown and private land sources, and account for private timber volumes being exported out of the province. The TM9 ensures that Crown dues, based upon either timber production or sales, can be accurately calculated.
The use of TM9 forms is established under the Timber Management Regulation.  Applicable forms must accompany shipments of all primary timber products transported on any public roadway.  They are critical in monitoring the movement of primary timber products within Alberta. It is important that these forms be properly completed and used so that the harvest source can be determined and timber volumes are accounted for, ensuring that sustainable harvest levels are maintained.
Some areas within Eastern Canada are primarily French and our software offers the capability to translate the system to another language.
Types of HBS Anomalies:
Gaps – scale return arrives in HBS without a matching predecessor or successor
Duplicates – repeat of scale return or weigh slip number
Mismatches – scale return arrives with a mismatch with associated counterpart
All harvested timber must be scaled and invoices or statements must be issued
HBS is designed to receive scale data based on sequential numbering and expects scale returns, weight slips and load arrivals to be created in numeric order
3LOG's Scale Event Anomaly tools help both the MOF and industry users ensure scaling information is accurate and complete.
HBS Documents Flow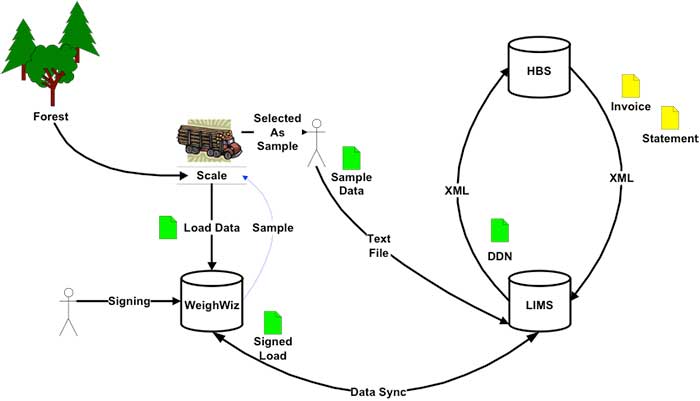 XML files can be generated in LIMS and imported/exported to the MoF/HBS.
Crown Dues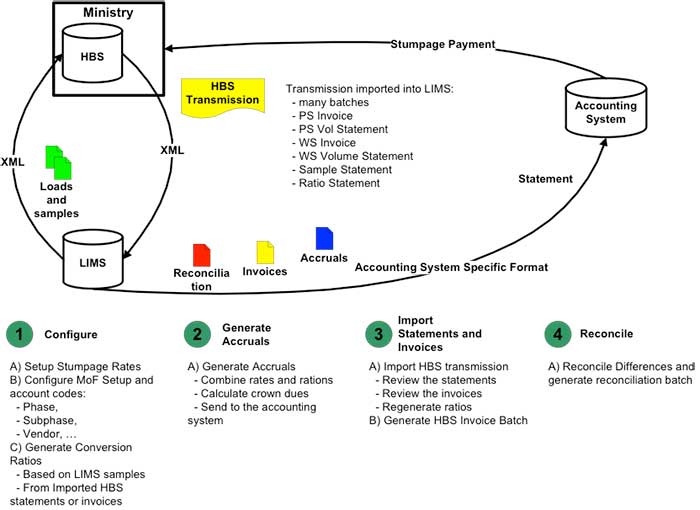 WeighWiz BC provides the capability to capture and manage scaler license and signature attached to loads.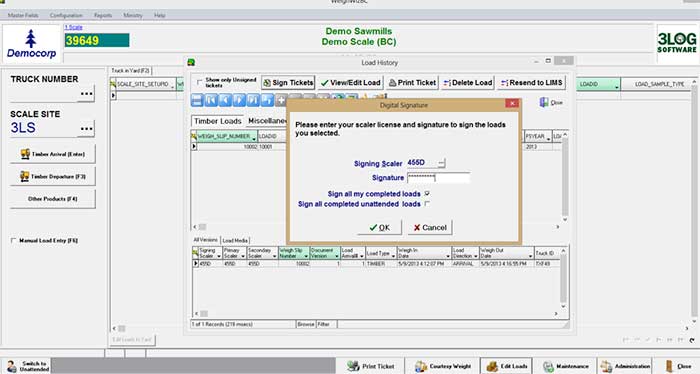 Export of XML to HBS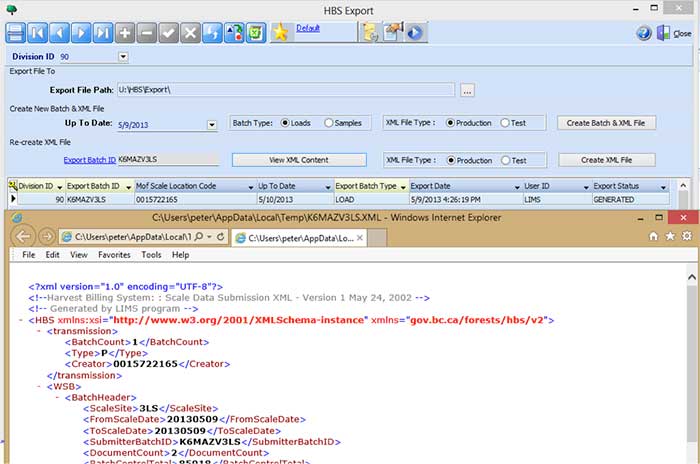 MoF Invoice Import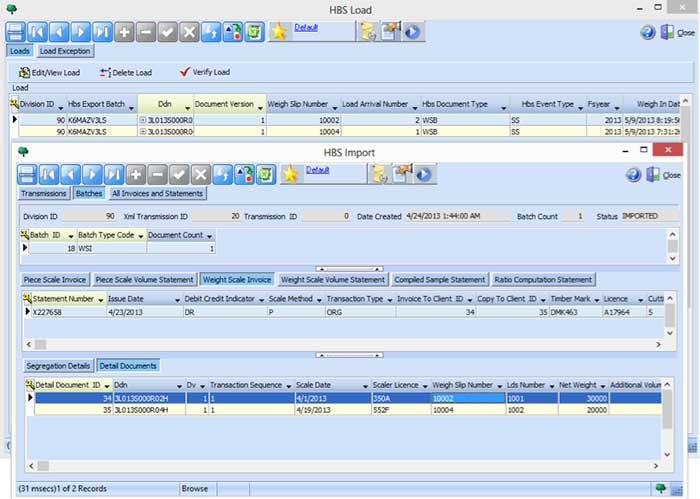 Reports and reconciliation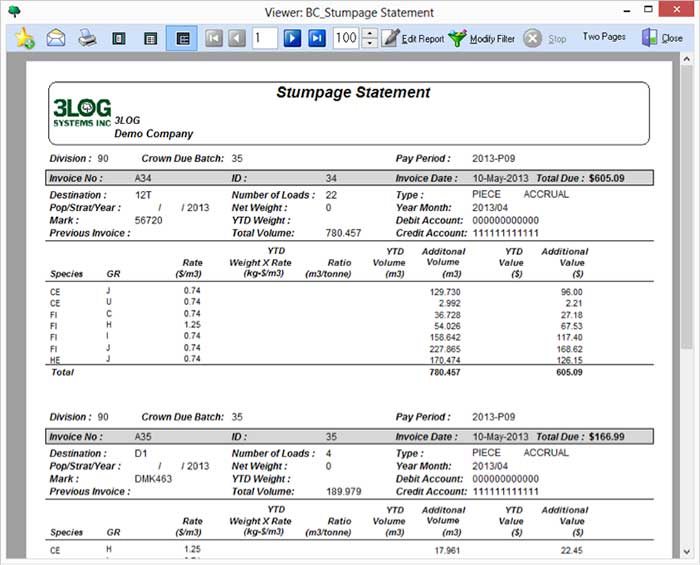 Processes and areas that LIMS will support
Electronic scale detail import to eliminate manual data re-entry

Detail down to individual log level
Scales that will be supported:

Deliveries and receiving reporting by location, block (source) and sort
Current inventory reporting

Down to log level with costs

Log inventory processing

Two options to handle inventory process

Logs packaging before shipping into

Support for logs tagging, shipping logs by tag

Ability to import shipped tags electronically

Ability to split package/boom if it cannot be loaded onto a vessel
Functionality to record other consumption type:

Log inventory costing

Contract management for loggers, suppliers, haulers in order to generate invoice matching invoice for supplied logs and redistribute log cost properly
Support of scaling and other log handling related costs
Cost adjustment and reporting
Support for multicurrency and exchange rates

Shipped logs sale

Based on delivered cost plus shipping costs

Boomsticks and gear inventory management

Automated sticks and gear inventory management

Sticks flow support, on boom, floating, removed, put in a flat, consumed at booming location to recirculate

Sticks and gear accounts by supplier and location
Sticks trimming and consumption
Sticks and gear adjustments and valuation

Integration with financial system
Built in ReportWizard with report writing and scheduling capabilities
Support for vendor statements and emailing reports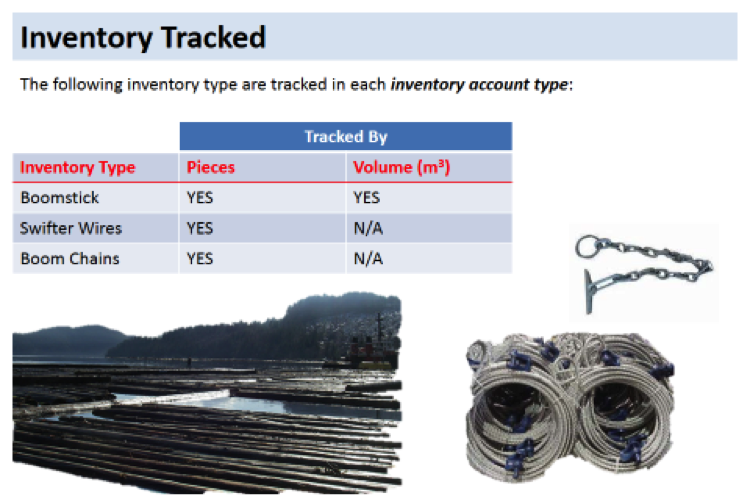 LIMS tracks gear and boomstick inventory
Reports
Production Boom Reports
Boomstick Detail
Boom Distributions
Group Export Reports
Boom Log Listing by Source
Boom Log Summary by Mark
Boom Summary of Scale FS72
Boom Summary Scale by Sort
Boom Summary Scale (Other)
Boom Summary Scale (Metric)
Boom Summary Scale Other by Mark
Boom Summary Scale Other by Length & Diameter
Production (Loads) Reports
Load Listing by Day (PS)
Load Log Sum by Mark & Sort
Load Log Sum by Mark & Species
Load Log Sum by Mark, Sort & Grade
Load Log Sum by Mark, Species & Grade
Load Log Sum by Destination, Mark, Species & Grade
Gear and Stick related reports
BW_Gear_Details_by_Location
BW_Gear_Summary_by_Location
BW_Gear_Transactions_by_Location
Contact 3LOG sales to learn more about our solution and how it is positively impacting our customers in the Canadian softwood industry.